Function
Use water and alcohol to extract efficient ingredient from natural herbs.
Theory
The herbs are loaded in the punched hole screen basket and lifted and loaded by crane into the tank, use steam or other heat source to boil, then get into a storage tank after filtering. The low-temperature concentrator which designed of vacuum theory will evaporate and cool the residual water and alcohol to alcohol water, finally be recovered and used again by distiller.
Application
Extraction of Chinese herbal medicine, Bio-tech product, Health food, which use of water and alcohol.
Flow Chart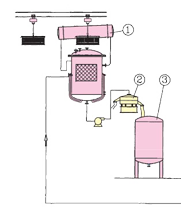 Specification
| Model | Full Volume(L) | Work Volume(L) |
| --- | --- | --- |
| YS-EC-120 | 120 | 60-100 |
| YS-EC-600 | 600 | 400-500 |
| YS-EC-1200 | 1200 | 600-1000 |
| YS-EC-2500 | 2500 | 1200-2000 |
| YS-EC-3500 | 3500 | 1500-3000 |
| YS-EC-5000 | 5000 | 2000-4000 |